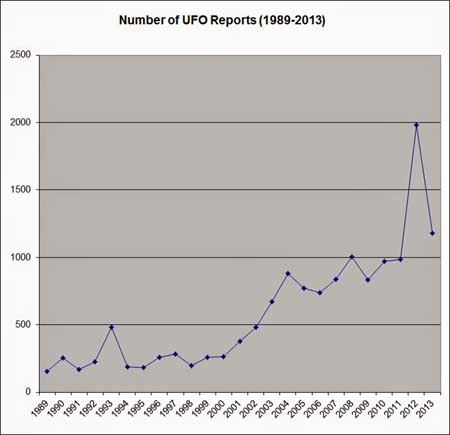 "There have been almost 15,000 UFO reports received as data since 1989. Coincidentally, this almost exactly matches the total number of UFO reports collected and analysed by the United States Air Force Project Blue Book during its official run of less than 20 years from 1952 to 1970." - Chris Rutkowski
For the past several years both PSICAN and ParaResearchers of Ontario have actively contributed UAP/UFO data that we have collected to the Annual Canadian UFO Survey that is conducted by UFOlogy Research formerly UFO Research of Manitoba (UFOROM). The end of 2013 marked the 25th anniversary of the survey and a comprehensive twenty-five year study of Canadian UFO reports was released by UFOlogy Research in August 2014.  This impressive study would not exist if it were not for the dedication and efforts of Geoff Dittman and Chris Rutkowski, with assistance from Ashley Kircher and for that we can only offer our admiration and sincere appreciation. This is one of the most important studies to have ever been released to date within our country and in our opinion will be of interest to scholars and students of this very real, but little understood phenomenon.

A .pdf version of the study entitled UFOs Over Canada: 25 Years of UFO Reports may be accessed here

For a link to the UFO survey essays by year, charts, and data tables please click here.
Links TO UFOlogy Research
Related Media Articles
Alien probe: Report details 25 years of UFO sightings in Canada - CBC
Seen Any Lights in the Sky? You're Not Alone -  CJOB