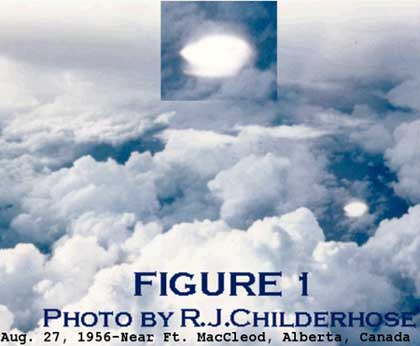 Royal Canadian Air Force pilot R. J. Childerhose, while flying in a 4 plane formation at an altitude of about 11 km on 27-Aug-1956 7:20PM, saw and photographed a bright, sharply-defined disk, that was remaining stationary between the clouds. This is perhaps one of the most intriguing photographs of a UFO ever taken in Canada, perhaps the world.
Dr Bruce Maccabee's paper on this case was published in the Journal of Scientific Exploration, Vol. 13, #2, pg. 199, 1999. It was originally presented at a
symposium of the Society for Scientific Exploration in 1984. You may read Dr. Maccabee's analysis via the link.