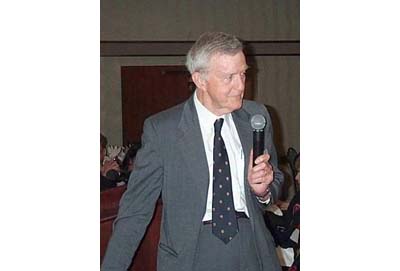 Over the past four decades, Dr. Ian Stevenson has opened many to the possibilities of survival after death and reincarnation, in particular through his research of children who apparently remembered their previous lives. On Feb. 8, the Montréal-born physician and psychiatrist died at the age of 88 in Charlotteville, Virginia.

Into his 80s (he only retired five years ago), he traveled the globe doing first hand research for the Division of Perceptual Studies he founded at the University of Virginia (formerly the Division of Personality Studies). The Division has studied phenomena including out-of-body experiences, near-death experiences, apparitions, after-death communications and deathbed visions, Margalit Fox of the New York Times reported in a Feb. 19 obituary on Dr. Stevenson.

Fox wrote: "Ian Pretyman Stevenson was born on Oct. 31, 1918, in Montréal and reared in Ottawa. His father, a journalist born in Scotland, was the Canadian correspondent for The Times of London. His mother had a keen interest in theosophy, the system of semi-religious mystical beliefs popular in the late nineteenth and early twentieth centuries. Stevenson would credit her vast library of books on the subject with creating his interest in spiritual phenomena."

Graduating with a medical degree from McGill University in 1943, he studied psychiatry at Louisiana State University and became chairman of the Department of Psychiatry at the University of Virginia in 1957.

In 1961, Stevenson traveled to India and became deeply interested in reincarnation. Stevenson founded the Division of Personality Studies in 1967 to further explore this and related phenomena for which he found intriguing evidence through people's past life recollections in his travels to India, Sri Lanka, Lebanon, Turkey, Thailand and Burma.
Among his many key publications are:
- Ten Cases in India. Charlottesville, Virginia: University Press of Virginia, 1984.
- Unlearned Language: New Studies in Xenoglossy. Charlottesville, Virginia: University Press of Virginia, 1984.
- Twenty Cases Suggestive of Reincarnation. Charlottesville, Virginia: University Press of Virginia, 1995.
- Reincarnation and Biology: A Contribution to the Etiolgoy of Birthmarks and Birth Defects (two volumes). Westport, Connecticut: Praeger Publishers, 1997.
- Where Reincarnation and Biology Intersect. Westport, Connecticut: Praeger Publishers, 1997.
- European Cases of the Reincarnation Type. McFarland & Company, 2003.

Tom Schroder became the first and only journalist permitted to extensively shadow Dr. Stevenson in his studies, traveling to Lebanon and India. In 1999, he published his account on Dr. Stevenson and his peers in Old Souls: The Scientific Evidence for Past Lives (New York: Fireside Books). The book opens with Schroder bouncing around in a microbus with Dr. Stevenson through rural India. "Why do mainstream scientists refuse to accept the evidence we have for reincarnation?" Dr. Stevenson asked Schroder repeatedly on that road trip.

Schroder met some of Dr. Stevenson's most intriguing subjects including a Lebanese accountant Daniel Jirdi who, as a child, remembered being a mechanic named Rashid Khaddege who died in a car accident in 1968 and Suzanne Ghanem who remembered being a Lebanese woman who died in heart surgery in Virginia, Hanan Mansour. The Lebanese studies surrounded the Druse people who believe in reincarnation.

Dr. Stevenson has inspired a new generation of researchers in the field, among them Dr. Jim Tucker (University of Virginia), Dr. Satwant Pasricha (who he worked with in India), Erlendur Haraldsson (Department of Psychology, University of Iceland, Reykjavik), Lebanese researcher Majd Abu-Izzeddin, and Dr. Bruce Greyson (editor of the Journal of Near-Death Studies). Studies into past life phenomena will continue thanks to the outstanding work of Dr. Stevenson.

Further reading:

University of Virginia, Division of Perceptual Studies:
http://www.healthsystem.virginia.edu/internet/personalitystudies/

Jim B. Tucker. Life Before Life: A Scientific Investigation of Children's Memories of Previous Lives. St. Martin's Press, 2005

Dr. Kirti Swaroop Rawat and Titus Rivas. "The Life Beyond: Through the Eyes of Children Who Claim to Remember Previous Lives." Online at:
http://www.prebirthexperience.com/The%20Life%20Beyond.htm

Image Credit:

Society for Scientific Exploration:
http://www.scientificexploration.org/