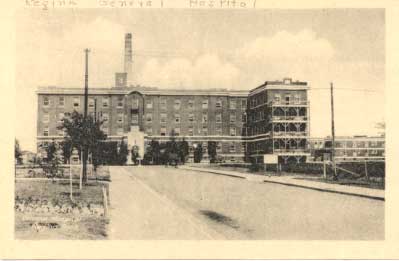 The Regina General Hospital circa 1925 - City of Regina Archives Photograph Collection
The Regina General Hospital opened as the Victoria Hospital in 1901 with 25 patient beds. It was initially opened with funding from the Victorian Order of Nurses for which it was named. The hospital ran on public donations solely, and eventually had to turn to the city for help as they could not keep up with demand, and were in some desperate cases having to turn patients away. The city took over in 1907, and today over 100 years later it is a major state-of-the-art healthcare centre.
The hospital is rumoured to be haunted by a friendly female spirit who was at one time a nurse during the hospital's rich past. She is described as elderly in appearance, and will vanish if approached. Perhaps this ghostly nurse is still continuing to care for her patients from beyond?
Have you experienced anything unusual in Saskatchewan? Can you add any further information to this report? If so please do contact us at admin@psican.org Your privacy will be protected, and confidentiality is assured.