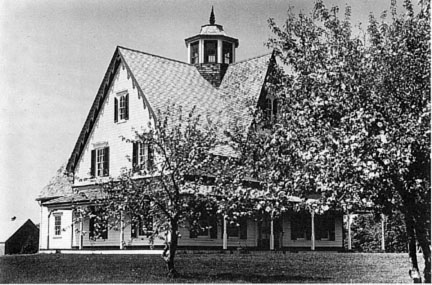 Located in Port Hill, near Tyne Valley in Prince County, the Historic Yeo House is operated as a museum, and  open to the public. The building gives a wonderful idea of what life was like for the wealthy ship building family that lived there during pre-Confederation times.

James Yeo Jr. was the richest and most influential man in the colony in the mid 19th century, and this house was the center of the Prince Edward Island social scene.

The house has a very warm, and inviting feeling when entering it, and is rumoured to be haunted by the friendly spirits of the Yeo family. One staffer we know of has stated how she would feel like she were being watched, and would often hear a feminine sounding sigh coming from right behind her even during times that the house was closed.

Have you experienced something that you think might be paranormal at the Green Park Shipbuilding Museum & Historic Yeo House?  Can you add any further information to this report? If so please do contact us at admin@psican.org Your privacy will be protected, and confidentiality is assured.
Further Sources:
For further information on the museum including visitor info
An excellent write-up on Yeo Family History
Image credit:
Mcgill