The following report was sent to us in February 2015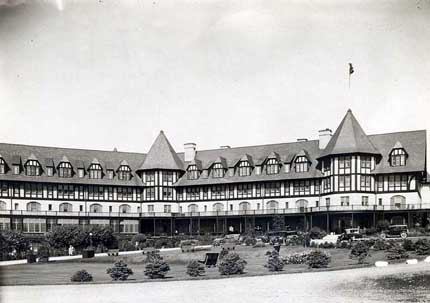 "It happened many years ago at The Algonquin Hotel in St. Andrews.  I was attending a night out function at the hotel and was on an upper floor.  Someone was with me but I can not remember who.  We boarded an elevator to go to the lower level of the hotel and a very nice elevator man all dressed in a red uniform  pushed the elevator button for us.  When I looked at him, he was so pale that I thought he was sick and I tried to carry on a conversation asking if he needed help, did you want someone from front desk, do you want me to get a chair for you to sit on.   He replied only by shaking his head no and his eyes would not meet mine in a shy sort of way.  When I got off the elevator, I rushed to the front desk and asked for a supervisor.  I told the supervisor to check on the elevator man because he might be having a heart attack or pass out or something as he looked very sick.   The supervisor looked at me with a strange look and said "lady, we do not have an elevator man" and I replied, "you do tonight"    I went back to the elevator and the man was nowhere in sight.   Needless to say, I traveled the elevator all night to prove my point but I did not see him again.  I never thought a lot about it because I thought someone was having fun until many years when there was publicity on the ghosts at The Algonquin and yes, there is an elevator man mentioned as well as the bride.  I am not looking to be contacted but wanted to tell you, yes there are ghosts."
Webmaster's note: According to the website "Haunted North America", Room 473 is haunted by a jilted bride who died in the room in the early 1900s
"The Algonquin Resort is a coastal resort hotel in the Tudor style, in St. Andrews, New Brunswick. It was built in 1889 by the St. Andrews Land Company, established in 1883 by American businessmen.
Additional Information:
The Official Website For The Hotel
Our thanks goes out to the witness for sharing this experience with us. If you have experienced something similar, can add further information to this report, or have experienced something that you believe may be paranormal please contact us at admin@psican.org or fill out our reporting form. Your privacy will be protected and confidentiality is assured.