Page 1 of 3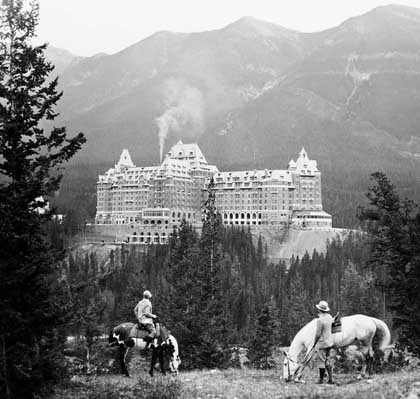 Banff Springs Hotel, which overlooks the stunning, picturesque beauty of the Bow Valley, was built by the Canadian Pacific Railway in 1888. The story goes that in the early 1900s, when the new wings were being added, the architects made a serious error, leaving space for a room with no doors or windows. They revised the blueprints to disguise their error and instructed the builders and workers to seal off the area and keep quiet about it. When the new wings were burnt in the fire of 1926, the lost room was eventually found.

It was empty, of course, but attention was drawn to its location along one of the corridors which had long been the focus of eerie disturbances. Night watchmen complained that a shadowy figure flitted down this hall. There were rumours of service being supplied by an elderly bellhop, when all the bellhops in the employ of the hotel were young.

The hotel's Rob Roy Lounge is said to have numerous ghostly guests. Besides the apparition of a bride who fell down a stairway and broke her neck, guests and staff have reported a headless bagpiper, disembodied carollers in the men's room, and a deceased barkeeper who informs imbibers when they have had enough to drink.

Some of these details appear in Linda Curtis's article in the Calgary Herald, 28 April 1983.
Have you had an encounter with the ghosts of the Banff Springs Hotel? Can you add further information? If so we would like to hear from you. Your privacy will be protected. Confidentiality is assured. Please contact us at admin@psican.org or through our ghost reporting form.
Originally entitled Banff/ The Lost Room, Mysterious Canada (c) 1998 John Robert Colombo Reprinted here with the kind permission of our friend J. R . Columbo For information on ordering Mysterious Canada or other John Robert Colombo books, and publications please see his website.

http://www.colombo.ca/

Photo Credit: Banff Springs Hotel Circa 1929 Public Domain