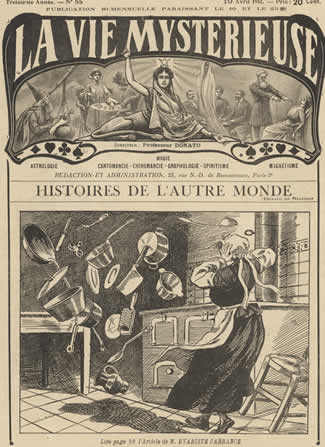 Artist conception of poltergeist activity claimed by Therese Selles, a 14-year-old domestic servant of the Todescini family at Cheragas, Algeria. From the French magazine La Vie Mysterieuse in 1911.
Sometimes emotional turmoil and stress are suspected of creating PSI phenomena such as is suggested in the report that I investigated below.
"For nearly two years from 1991 to 1992 I went to live with my parents in Brockport NY. I was 24-25 at the time and was experiencing a great amount of emotional turmoil because of a recent arrest and lengthy court appearances. In addition I had a falling out with my wife at the time because of said arrest.
While at my parent's home I would on occasion hear loud explosions sometimes so violently loud that they would shake the house. My mother would hear them too, one time knocking on my bedroom door to inquire if I had been lighting off fireworks. My father had experienced these explosions too, but refused to discuss such (I think it unnerved him). I came out of my room one day to hear something like chains jingling in the small linen closet in front of me. upon opening the closet the only thing I could find that could possibly make such a noise was a box of family silverware. However this was secured in a large wooden box which would have muffled the noise to the point that I doubt it could have been heard as clearly as I heard this.
The occurences climaxed one day while I was home alone. I was upstairs in the loft when I heard something that sounded like a 300lb. safe being dropped below me in the kitchen. I proceeded to grab my father's 32 auto from the adjoining bedroom as I thought someone may have kicked in the door downstairs. As I swept the house and began to descend the staircase I felt and heard pounding directly under my feet and then I felt something pass through me from my feet to my head, like a chill(it made me tingle). I checked the house inside and outside and from top to bottom, nothing was amiss.
I did not know what to do so I called this psychic bookstore and talked to the person there. I explained the situation to them and told them that it was a brand new home that my parents had just built and that we had even had the builder come to inspect the home because of the occurences, but he had no explaination. The woman I was talking to suggested that we could have built over an old grave site and to tell the prescence to go to the light. So after getting off the phone with her I told this prescence out loud several times to go to the light. Later that night while lying in my bed I heard directly over top of me, and only for a split second, a piercing scream so loud that it reverberated off of the walls. I lay in awe, and actually began to question if I had really heard what I had heard. The interesting thing was that we never had any further occurences after this event.
I believe that I may have been unconsciously manifesting these happenings or that it could have been a manifestation of energy caused by disturbing the site the house was built on (old burial ground, etc.). From what I have studied over the years concerning poltergeists, the severe turmoil and uncertainty in my life may have very well been the catalyst that precipitated the happenings."
Our thanks to the witness for sharing these experiences with us. It is interesting to note that when the witness took charge of the situation by speaking out loud and therefore empowering himself that the phenomena ceased. This is very much in keeping with our own findings to date, and is usually the case.