Brian Vike of HBCC UFO Research in Terrace, British Columbia has been receiving numerous reports of possible Sasquatch activity in recent months.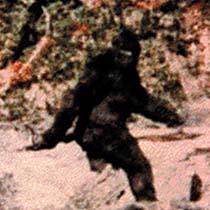 The following was reported by The Province on Thursday,September 25, 2008.
"Tales of a giant, hairy ape-like creature trampling through the woods are running wild in a northern Interior town after a rash of Sasquatch sightings.

There have been three reported sightings in the area within a month, said Brian Vike, director of HBCC UFO Research.

"To be honest with you, I don't know what to make of all this," said Vike. "I know with UFOs we're doing well in B.C., but I don't know with the Sasquatch. I'm just trying to figure it out."

One of the sightings was reported by Houston resident Delores Harrie, who was at home on July 28, just after 6 p.m., when her two dogs began barking furiously.

She saw the doorknob rattle, and when she went outside to investigate, she saw a shaggy creature running across the tree line into the bushes:

"It was huge, about seven to eight feet tall, and hairy," said Harrie, 45.

"He had long hair, shaggy, . . . in a pine-beetle colour, totally covered.

"I couldn't believe how fast he moved," she added.

"I can't see it being a grizzly. They run but they don't run on two legs, and I know it's not a moose either."

Harrie reported the incident to Vike, who investigated and recorded some strange markings on the ground.

"Definitely, something had been there," said Vike.

"There's some cow tracks, but this was something else - someone with a good-sized foot."

The other sightings were on Morgan Road in Houston in July and on Telkwa Highway Road in Moricetown, about an hour and a half away, on Aug. 27.

There was also a reported Sasquatch encounter in Campbell River on Aug. 31.

Vike said he gets periodic Sasquatch sightings across B.C. and the Pacific Northwest but it hasn't been active - until recently.

Harrie, who was "freaked out" about the encounter, said she's trying to be open-minded about what she saw.

"There's so many things out there I think it would be a little crazy to think we're the only ones here."
We cannot help not to notice the increase of Bigfoot activity that is occurring along with an increase in UFO activity in that region of Canada, and can only speculate if they may or may not be somehow related?
FAIR USE NOTICE: This page contains material the use of which has not been specifically authorized by the copyright owner. The PSICAN website distributes this material without profit to those who have expressed a prior interest in receiving the included information for research and educational purposes only. No infringement intended. All images, texts, videos, or audio attachments are used assuming "Fair Use"/"Fair Dealing" and, if used here, may be removed at the request of the original copyright holder with limited notice.