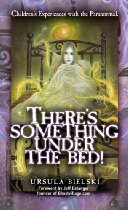 Despite its rather eerie title, and spooky cover art There's Something Under The Bed: Children's Experiences with the Paranormal is a feel good type of book. With an obvious slant towards the experiences of children, each chapter covers various paranormal subjects from angels and demons, to ghosts, and poltergeists as well as chapters on autism, and the new agey notion of indigo, and crystal children.

The book opens with a forward by Jeff Bellanger who is the founder of Ghost Village, a large paranormal themed chat forum. He supports the author's assertion that parents should be open with their children when it comes to discussing the paranormal. He goes on to mention how children enjoy learning history, and retain more when folklore or a ghost story is attached to the lesson. This idea was put forward by Matthew James Didier (founder - director) of The Toronto Ghosts and Hauntings Research Society, and long time readers of the TGHRS will remember how he was very publicly taken to task for stating this on a CBC national radio program back in 1998. Fast forward to 2010, and it is great to see that this idea of teaching history through folklore is now being more widely accepted, and as a parent of three kids who all grew up loving history, and ghost stories I can say this is an absolute fact.

Author Ursula Bielski is an accredited historian, and a self described veteran ghost hunter who along with some well known cases starts the book off with a bit of her own childhood experiences while growing up in a haunted house in Chicago. She also details how her parents dealt with these experiences. and what impact they had on her.

This book was an easy, and enjoyable read, although at times the layout of the chapters seemed a bit disjointed. The author also used the phrase "many paranormal researchers believe this", or "many paranormal researchers think that" etc repeatedly throughout seemingly every chapter, which at times was a bit of an overkill and not needed in my opinion to make any point. Perhaps citing a specific researcher or investigators, who support a school of thought in place of this phrase would have been preferable.

My only other issue with the book, and it is a very minor one, is the mention of the "late" William Roll (highly respected American authority on poltergeist phenomena) on page 145 ..... which was a shock for me to read, and I am greatly relieved to say that at the time I am writing this is very much ALIVE.  

The book sums up in the final chapter with what is in my opinion a positive, and common sense parenting approach. Listen to your children, learn about their world, and try to be in touch with it, while keeping an open mind to the possibilities of what they may be experiencing is the advice the author gives. Again, this is a positive, and nurturing approach, and good advice for any parent whether their child is experiencing something paranormal or not.

While there is nothing really new or ground breaking about There's Something Under The Bed I would recommend it to anyone who has a general interest in the paranormal, and particularly those who have had their own childhood paranormal experiences. Parents of children who enjoy paranormal topics or who may be having their own experiences would benefit by having a read of this book as well.
Sue St Clair
September 2010
There's Something Under The Bed!: Children's Experiences with the Paranormal By Ursula Bielski, (c) 2010 New Page  ISBN13: 9781601631343

Click here for purchasing option

About the Author:

Ursula Bielski is the founder of Chicago Hauntings, Inc. A historian, author, and parapsychology enthusiast, she has been writing and lecturing about Chicago's supernatural folklore and the paranormal for nearly 20 years, and is recognized as a leading authority on the Chicago region's ghostlore and cemetery history. She is the author of six popular and critically acclaimed books on the same subjects, which have sold in excess of 100,000 copies. Ursula has been featured in numerous television documentaries, including productions by the A&E Network, History Channel, Learning Channel, Travel Channel, and PBS.