Just west of Orillia Ontario June 2010 Two separate days both at approx. 4pm
Photo One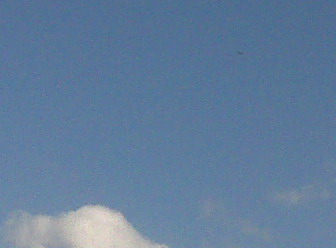 Photo Two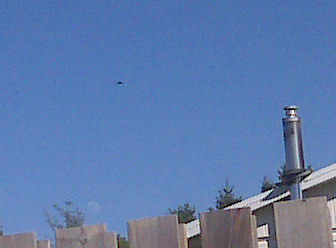 The witness/photographer shared with us the following:
"I very recently had two sightings within a week of one another and managed to get a couple of decent pics. I have others but they are not as clear.

These were snapped west of Orillia on hwy 12. The 2nd pic is probably the best I have snapped as you can clearly see that the disc is reflecting the sunlight in exactly the same manner as the chimney on the house.

Both pics were taken using a Blackberry Curve 8300 and are untouched with 3 times zoom and at the same location at approximately the same time of day (4 PM) but within a week of one another. The only reason I used the blackberry is because that is all I had handy each time. Strange that when I carry my regular camera which also has video capability I don't ever get the same opportunities. However, I am thankful for what I have. Immediately after these pics were snapped, the object(s) took off faster than any conventional aircraft we humans currently have. In fact it would be safe to say no human would survive those kind of speeds"
Our thanks goes out to the witness for sharing this information, and these photos with us. Please note that the witness has requested complete anonymity, and therefore the exact location is not published as per request. Have you witnessed something similar in the Orillia area or elsewhere in Ontario? If so please contact us at admin@psican.org Your privacy will be protected.  Confidentiality is assured.