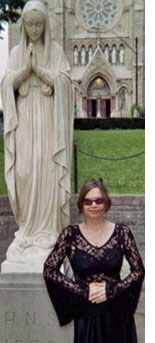 We were saddened to hear of the passing of Dr. Kimberly Molto, a friend and colleague in the study of the unknown, this past Saturday May 14th, 2011. Kim was a good friend to many of us here on the PSICAN team and a highly respected author and student of the paranormal throughout the field.
Outside of the books and paranormal research, Kim had a Ph.D in Cognitive Neurobiology (consciousness, thought processes with a sub specialty in depressive/suicidal states) and one could argue a great survivor who weathered many personal tragedies.  Her outlook on the paranormal in terms of survival of bodily death was literate and well thought out. She presented her ideas and information with dignity, intelligence, and enthusiasm through her books and her hands on field studies. Those of us who had the pleasure of communicating, working with, and generally getting to know her as a person are far better for the experience.
From her Facebook profile here is one of Kim's favourite quotes...
"When the end comes, you are faced with fundamental questions: What have you done with your time on Earth and is the world a better place for your having been here?" ~ Andreas Panandreou who died and was revived, from an interview she did for her first book.
We hope Kim knew she could answer, "Yes." to that second part... because if your contributions towards the good of this planet are based on those who you've touched, who care about you, and who admire you, and I think it's safe to say yes to that, then Kim did extremely well.
We were honoured and privileged to have known her... and we will miss her. The paranormal community has suffered a huge loss that cannot be replaced, but we can move forward as Kim would have wanted us to, and continue to learn, and build upon her good works.
Dr Kimberly Molto had been a great supporter of the Canadian Mental Health Association - Guelph branch. For those who would like to honour her memory with a monetary tribute you can obtain information on donating to CMHA - Ontario by clicking on the link provided.
Dr Molto's books True Tales of the Paranormal, and More True Tales of the Paranormal are available for purchase through most major retailers such as Chapters, and Amazon as well as available through the public library system here in Canada.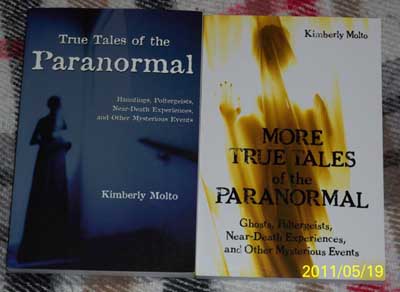 Photo Courtesy Doug Mills
"Do not stand at my grave and weep
I am not there. I do not sleep.
I am a thousand winds that blow.
I am the diamond glints on snow.
I am the sunlight on ripened grain.
I am the gentle autumn rain.
When you awaken in the morning's hush
I am the swift uplifting rush.
Of quiet birds in circled flight.
I am the soft stars that shine at night.
Do not stand at my grave and cry;
I am not there. I did not die."
 
~ Author Mary Elizabeth Frye
"Kim won myself and Sue over for being a rare bird in todays world, and that's someone who put the study and the work therein ahead of ego and personality.  She often said it wasn't "about her", but about the topic, and disliked marketing and putting herself "out there" to push her books... for her, she wanted to be taken as seriously as any scholar and in as many ways one can in this field, succeeded. The world is a poorer place without her... and she will be missed."   ~ Matthew James Didier
" Kim was a great help to me not only as a student of the paranormal, but during the loss of my Mother from cancer in 2009. Her kindness and understanding of grief enabled me to come to terms with what was a truly sad, and difficult period in my life. Kim never made any claims or boasts of being the most famous, or the bestest or the greatest, (that was not her style) but she was great, and her contributions to the study of paranormal subjects will live on, as her spirit does in all of those she has touched." ~ Sue St. Clair (Demeter) 
"I first met Kim when I had the opportunity to interview her after the publication of her second book. I was impressed by her intelligence, her passion for the field and her caring attitude. She expressed to me on several occasions that what motivated her to write the books was to help people who have had experiences with the unknown understand that these were common human experiences. In her own words she said  "It was a compulsion; something that had to be done and when others came forward with their very personal and meaningful accounts it became an obligation. Especially when I considered what these stories could contribute to our general knowledge base and hopefully provide insight and comfort so people would be less afraid and more willing to come forward with their own accounts." Kim will be greatly missed."    ~ Maria Grazia 
"I have just learned of Kim's entry into the next world and am saddened and shocked.  Since I moved away from Guelph we kept in touch mostly through our love of the Halloween 'season'.  I did not receive my usual letter from Kim this past Halloween and wondered but did not follow up. Kim was a fellow artist, friend and one of the most fascinating people I have met. I will miss her. See you in the next life, Kim." ~ Sharon Stock Feren
If you would like to add a few words in memorial to Kim on this page, a personal thought or message please email us at admin@psican.org
"They are in a better place, but we are left behind ..."

Kimberly I. A. Molto, PhD.