The witness writes: 
"My husband and I were at our cottage which is located near Sandy Hook on Hwy #9 North, lakefront (Lake Winnipeg). On a clear day we can see Victoria Beach, across from us.
On Wednesday, August 11th at approximately 11:00 p.m. or shortly thereafter, my husband woke me to look at the strange light that was visible in the sky northeast of us, and across the lake. It was so bright that it was reflected in the lake. As we looked at it, it suddenly dimmed, moved in a southerly direction for a short distance, across the lake, then it disappeared. A few moments later, it reappeared in the same spot we had first seen it. I grabbed my camera and started to take pictures. By the time I took the third picture, it seemed to respond to the flashes of my camera by moving towards us - the light became more intense and brighter. When I took the fourth picture the light completely disappeared (camera shy!!??). I observed a very tiny red light moving across the lake right after this (was it hiding?) and then it was gone.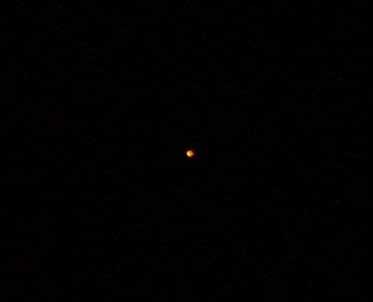 I am including the pictures I took. The last one is the clearest one and when magnified to 800%, (please see photo above) looks quite interesting. We do wonder if we had been privileged to see a UFO or if there is another explanation for what we saw."
Our thanks go out to the witness for sharing this report and photos with us. If you have experienced something similar or what you believe to be a UFO please contact us at admin@psican.org  Your privacy will be protected and confidentiality is assured.