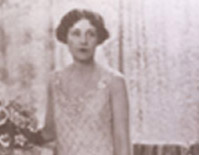 Circa 1925
Maidens, Heroes, and Ghostly Castles ....
Dame Barbara Cartland (July 9, 1901 – May 21, 2000) prolific romance novelist, and British celebrity. Sales of Barbara Cartland's 720+ novels have been recorded into the billions. Also known for her charitable work and concern for the environment, she requested to be buried in a cardboard coffin. This last wish was granted, and she was laid to rest on her estate in England under a tree that was planted by Elizabeth I.
When Dame Cartland met with famed paranormal investigator Peter Underwood she confided that she long held a belief in the afterlife.
As a young girl she vacationed in a small Italian village with her brother Roland (he died during WWII). The siblings decided to slip away for a few hours and explore the neighbouring countryside. They found themselves walking along the banks of a large lake. On the opposite side they clearly saw a "magnificent castle with spires and turrets," and wondered at who lived there. Upon returning to the village they asked the local residents about the castle, describing it's appearance and explaining where they had walked. Both Barbara and her brother were shocked at the reply. They were told that the castle by the lake that they had seen had been destroyed many years before and no longer existed. Confident in what they saw and determined to prove the castle was there they returned the following day .. only to discover ruins (not standing more than 6ft high) where the castle had been only 24 hours before.
While living in Somerset Barbara's home had a haunted staircase. "She never felt alone there," she often felt as if someone was following her up the stairs or was just ahead of her. The house at one time belonged to a Cavalier that had been wounded by Roundheads. He had returned to his home to die.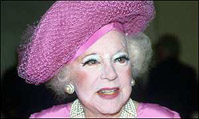 "The True Queen of Romance."
Barbara also encountered the apparition of her beloved dog Jimmy, a cocker spaniel. Her other dogs reportedly could sense Jimmy's spirit as well.
Prior to her death she stated that her deceased husband had returned to her bearing flowers, and with the message that there was life after death It is possible to return .....
Sources:
Peter Underwood's Guide To Ghosts & Haunted Places, By Peter Underwood (c) 1996 ISBN 0-7499-1665-6
Barbara Cartland Official Website:
http://www.barbaracartland.com/